As the business world constantly moves forward, the main goals remain growth and expansion. Yet growth inflicts demands on a business's technology, staff, and even physical environment.
To foster expansion, businesses require larger teams, up–to–date technology, and an ever growing and changing office environment. Our team can help cultivate office conditions that change with you and the evolution of technology.
Vantage Credit Union worked with us in the past on a couple other smaller projects using DIRTT wall systems. When they began to outgrow their physical environment, they knew it was time to expand their new headquarters and contacted our team with a desire for a working environment employees would enjoy—something fun, different, expansive, and inviting.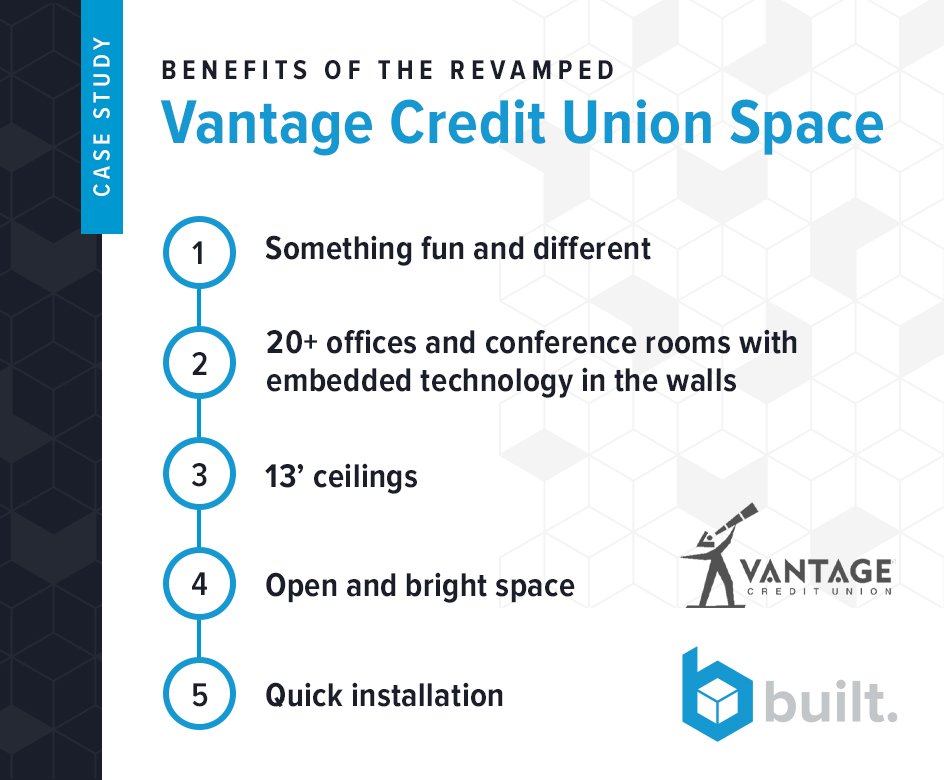 New technology in prefab construction lends solutions to businesses. Using DIRTT wall systems, we crafted a custom working space of 20 offices, plus meeting, conference, and training rooms. Along the way, our team embedded wall technology where necessary.
The goal was to preserve the tall ceilings during the expansion. Despite the challenge, our team provided Vantage 13 feet of DIRTT walls. "We challenged them…they found a way to make all that work," said John Hopkins, Chief Risk Officer at Vantage Credit Union.
Functional design makes doing the work of your business easier and more efficient while creating space for partnership. Now, the office designs are more cost and time effective. When the team at Vantage Credit Union saw their new headquarters, they were in awe of how quickly and masterfully a blank slate turned into an open and bright usable office environment.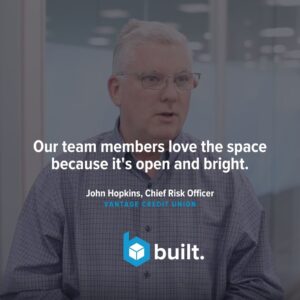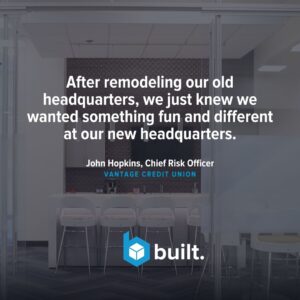 Never has the demand of businesses been higher. We're aiming to create meaningful working environments and offices that can help solve some of world's biggest challenges. Let's redefine office design and keep building strategically for tomorrow.
---
WATCH CASE STUDY